STOP: Is the X-Matrix module enabled for your organization?
Many organizations that are doing a formal Hoshin Kanri or Strategy Deployment process utilize X-Matrices to develop and implement tactical and strategic plans coordinated across people throughout the organization. This type of approach promotes organizational learning, faster corrections, and breaks down silos. So why not put your X-Matrices in KaiNexus?

X-Matrix Cards let you do just that, enabling you to add an X-Matrix to any Board you own so that it is in line with all your other improvement work in KaiNexus. Having your X-Matrix in KaiNexus also makes it interactive, as you can open any of the related work right from the X-Matrix itself.

Because not everyone uses X-Matrices and we don't want to clutter up your system, the X-Matrix feature is disabled by default. Reach out to your Customer Experience Lead to turn on this feature.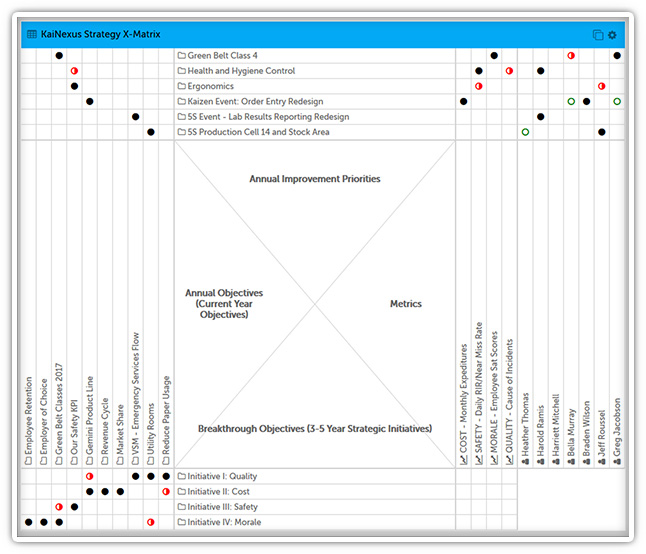 The rest of this document will detail how to create an X-Matrix.

The first thing you need to do is make sure that the person or people responsible for creating and maintaining X-Matrices is given a Role containing the "X-Matrix Administrator" permission.

Next, you need to set up your organization's Correlation Attributes.
Setting up your Correlation Attributes
A major value of the X-Matrix is being able to visualize the correlation, contribution, and accountability between the sections. In KaiNexus, you can configure your own correlations. This is done with Attributes.

You will work with your Customer Experience Lead to create an Attribute Type that will be used for your X-Matrix Correlations. You can even create multiple X-Matrix Correlations sets.

Once this is set up, these Attributes are maintained by Quality Administrators just like any other Attribute. It's important that each of these Attributes is given an icon and a color, as that is what will be displayed on the X-Matrix.
Working with X-Matrices
NOTE: You must have a Role containing the X-Matrix Administrator permission to be able to create or edit an X-Matrix.

Creating an X-Matrix
NOTE: Only a Board's Editors and people with the "Global Board Administrator" can add a Card to a Board.

Open the Board with which you want to work, then:

Click in the top right corner of the Board.


In the resulting drop-down menu, click .

Working with an X-Matrix
1. Enter the name of your X-Matrix in the "Title" field.

2. Pick which X-Matrix Correlation Attribute you want to use in the "Correlation Type" drop-down menu.

3. Next, there are 5 columns to configure:
North: The top quadrant of the X-Matrix. Typically, it contains the annual improvement opportunities and priorities, each aligning with an annual objective.


West: The left quadrant. Typically, it contains the annual objectives that align or nest under each of the longer-term breakthrough objectives.


East: The right quadrant. Typically, it contains the specific metrics that will be used to measure each of the short-term initiatives.


South: The bottom quadrant. Typically, it contains the breakthrough objectives that are 3-5 years out.


Right Side: The columns of information on the far right of the X-Matrix. Typically, it contains the names of the people responsible for each project, metric, and goal.

You can add a title to the North, West, East, and South columns in the corresponding "Title" fields.


In all five columns, add any items or people by searching for them by name or ID number in the field labeled "Start typing."

You can add free text to any of these columns by clicking next to the relevant search field, typing your text in the resulting field, and then pressing the return key.

Remove any item you've added to a column by hovering over it and clicking .

Rearrange the list of items in any column by dragging and dropping them into the right order.
4. Finally, you can configure 7 headers:
Top 1: Will be displayed over the West values.


Top 2: Will be displayed over the North and South values.


Top 3: Will be displayed over the East values.


Top 4: Will be displayed over the Right values.


Bottom 1: Will be displayed under the West values.


Bottom 2: Will be displayed under the North and South values.


Bottom 3: Will be displayed under the East values.


Type the text you want to appear in these locations in the corresponding text field. NOTE: You can choose to enter values for all, some, or none of these headers.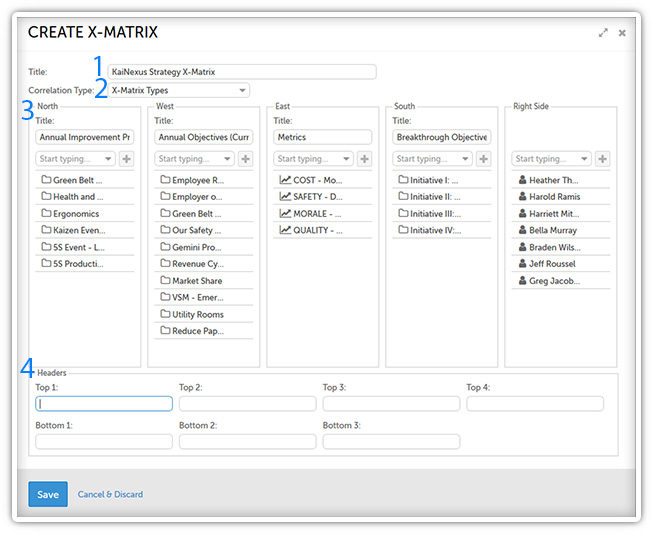 To confirm your changes, click

.
Adding Correlations to an X-Matrix
Now that you have the X-Matrix Correlation Attribute Type configured and the Card itself in place, you need to add some Correlations Attributes to the Matrix.
Open the Board containing the X-Matrix you want to work with.


Click the intersection between two values on the Matrix.


Pick between the Attributes that appear to add the corresponding icon to that intersection.

If you want to clear a Correlation Attribute from an intersection entirely, click it and then click "None."
Additional Notes
Once your X-Matrix has been added to your Board, you may need to adjust the height of the card for all your entered information to be displayed clearly.


You can open any item you have permission to view by clicking its name on the X-Matrix.


Items that a user doesn't have permission to open will be displayed as "Private" and the user will be unable to open them from the X-Matrix.


You can hover over a Correlation Attribute icon to display that Attribute's name.
NOTE: Boards have a maximum card limit of 16. Once a board has 16 cards users cannot add or copy additional cards to that board.