Organization > Attributes
Network Attributes
Enable Network Locations on new Value Type Attributes.
NOTE: Reach out to your Customer Experience Lead to take advantage of this feature. After they configure the Network Attribute for you, you will be able to assign the Network Attribute to a Location.
What is a Network Attribute?
You can have Network Locations enabled on new Value Type Attributes. With this option, the values created for these Attributes can be assigned to certain Network Locations.
When you filter by one of these Attribute values in a list, it will include all of the Items in the Network Locations that have been assigned to that value. This allows for more visibility on improvement work in KaiNexus that may be organized across several different Network Locations.
CAUTION: Once Network Locations are enabled for an Attribute, these Attributes will not be able to be added to your Templates.
How do I assign Network Attribute values to a Location?
NOTE: The Admin area is only accessible by administrators; only Quality Administrators can perform the following functions.
Navigate to the Admin section .
Under Organization, click Network.
Enter the name of the Network Location in the "Search Locations…" search bar near the top or scroll down and find which Location you are looking for.
On the right, click the to edit the Location.
In the resulting window,

Under the Network Attributes section, select which value you want to assign to that Location by clicking on the "Optional" drop-down for the configured Attribute.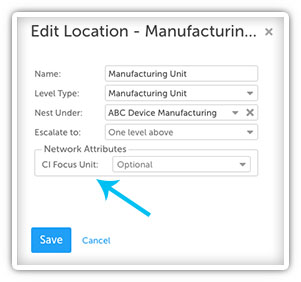 After you have selected a value be sure to click .
Where can I view my Network Attributes?
When using the Item filter, Network Attributes are easily identified in the "Pick a criteria…" drop-down as they are represented with a

icon.
NOTE: Network Attributes cannot be used with Attribute Reports.