Filter Reports by Location
Every KaiNexus Report (including the Snapshot) includes a Locations panel along the left-hand side which displays your Network. This allows you to filter your Reports by any Location(s). If you filter by Location on the Reports Snapshot page initially, that filter will be reflected on any Reports you open.
NOTE: If you don't select any Locations, data from the entire organization will be shown by default.


Use the search box to look for a specific Location, then click that Location's name in the Network diagram to filter Reports by it.


Click to expand the Level Type and Network Attribute filter.



Once you've chosen at least one Level Type, a new icon - - will appear alongside that field. Click this icon to quickly select all Locations of that type.


If you're choosing to filter by a Network Attribute, first select the Network Attribute from the drop-down menu. Once you have selected the Network Attribute, a secondary filter drop-down will appear. Here you will select the Attribute Value.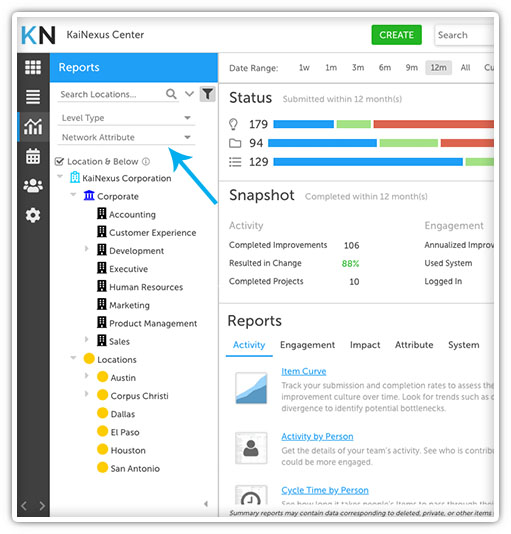 Clicking also reveals the "Location & below" checkbox. Check this box if you want your Reports to include data from the Location(s) you select as well as any Locations nested under them.


Click next to the Location search bar to fully expand the Network.

If the Network is already expanded and you want to collapse it, click next to the Location search bar.


Click at the bottom of the sidebar to hide it. Click to show it.

Pro Tip: To select multiple locations, hold down the ctrl key while clicking on each location. To select all locations in a range, hold down the shift key while clicking the first location in the range and then the last location in the range.