Use the Reports Snapshot to get an overview of your organization's improvement culture.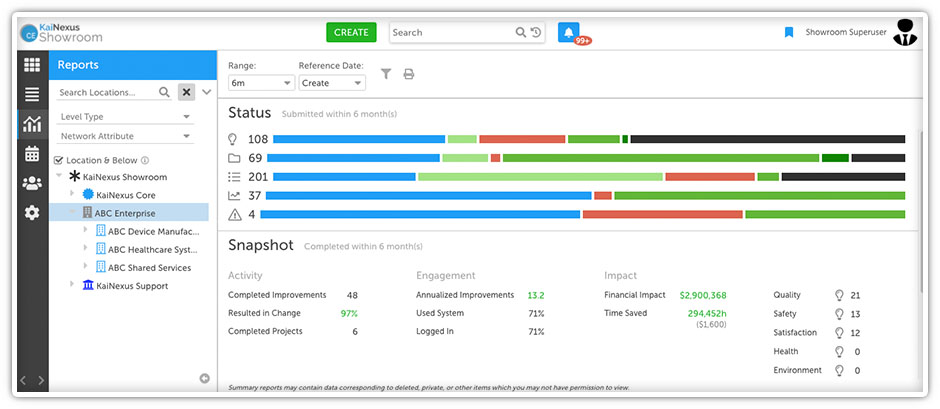 Improvements, Projects, Tasks, Charts, and Incidents (If your organization has enabled the Incidents module ) Status Bars: See the statuses of all Items submitted in the selected time period: New, Planned, Overdue, Active, Resolution Submitted, Completed, and Deferred.

PRO-TIP: Clicking any of the colored bars on this page will open a list of all those Items submitted within the set time period that are currently within that status.


The Snapshot gives insight into the activity, engagement, and impact of all Improvements completed during the selected time period, including:



Activity - The number of Improvements completed in the set time period, the percentage of Improvements that resulted in a change in that time, and the number of Projects completed in that time.


Engagement - The number of annualized Improvements (how many Improvements were completed per person on average), the percentage of people who have logged into the system, and the percentage of people who have used the system in more ways than just logging on.


Impact - The total financial impact, the total amount of time saved (and the corresponding monetary value of that time), and the total number of Improvement completed with quality, safety, and satisfaction impacts during the set time period.
Filtering the Snapshot
If your organization has multiple currencies enabled, a "Currency" filter will be included near the top left corner of the page. Choose the correct currency to see the impact data reported in that currency.


The date range options are listed along the top of the page. Choose between 1 week, 1 month, 3 months, 6 months, 9 months, 12 months, all time, or a custom range by clicking on the corresponding option.


Advanced filters can be applied to the Snapshot section.



Click located to the right of date range options


In the resulting window, adjust the filters as needed


Click .

To clear Advanced Filter option click .


The Network diagram can be found along the left side of the page. Use this to filter the Snapshot by Location - only items tied to the selected Locations will be included in the Snapshot.
You can also:
Export the Report Snapshot as a PDF by clicking near the top right corner of the Report.