Use the Location Filter on a Board to display data specific to the selected Location.
Anyone who can edit a Board's settings can add (or remove) a Location filter for the whole Board.

Turning on the Location Filter will add a Network diagram along the left side of the Board, letting you filter every Card on the Board by Location. That way, you don't have to manually add the same Location filter to every Card individually.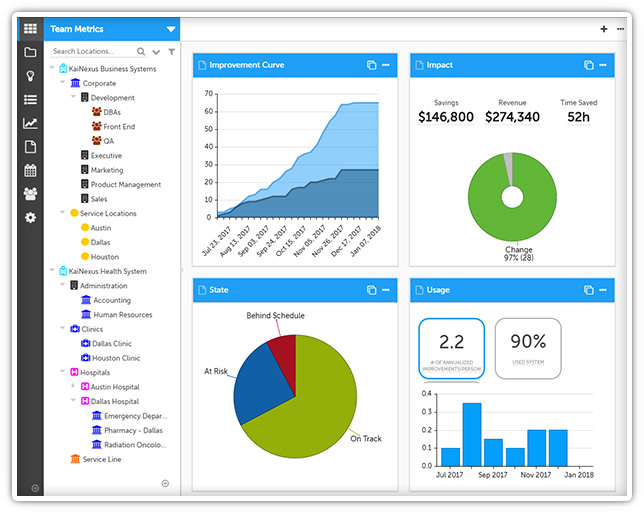 What happens if a Card has its own Location filters?
The Card's Location filters will work in conjunction with the Board's Location filters.

For example, if your Board is filtering by the "Warehouse B" Location and you add an Improvement List Card filtered to show Improvements in the "Executive" Location, only those Improvements which are affiliated with both "Warehouse B" and "Executive" will be returned.

When you pick a Location, any shared series from a Chart outside that Location will disappear from any Chart Cards on the Board. Utilize this functionality to quickly and easily toggle the visible data between separate Locations within a single Chart Card.
Who can add a Location filter to a Board?
The Board's original creator
The Board' Editors, so long as they also have the "Restricted Board Administrator" permission.
Anyone with the "Global Board Administrator"
How do I filter a Board by Location?
Open the Board with which you want to work, then:
Select the Actions button in the top-right corner of the Board.
Within the Actions menu, select Edit Board.
Select Actions > Edit Board.

In the Edit Board window, navigate to the Filters section. Check the box next to "Show Location Filter." (If you want to remove the Location filter later, uncheck this box).
Once this box is checked, two more options will appear:


Enter the Location(s) to which the Location filter will initially default in the "Default Location(s)" field.
Check the box next to "Location & Below" to include items and people from Locations nested under the filtering Location.

Select Save.
The Network diagram will be added to the left side of your Board with the default Locations you chose already selected. You can select different Locations to temporarily filter your Board differently, but once you leave the page, the Location filter will default back to its original settings.
Board Location Filter User Preferences
Boards with Location Filters enabled will remember the User's previous selection. The Expand/Collapse Preference the User has selected will be remembered until the User changes the selection.