NOTE: Reach out to your Customer Experience Lead for more information on enabling this module.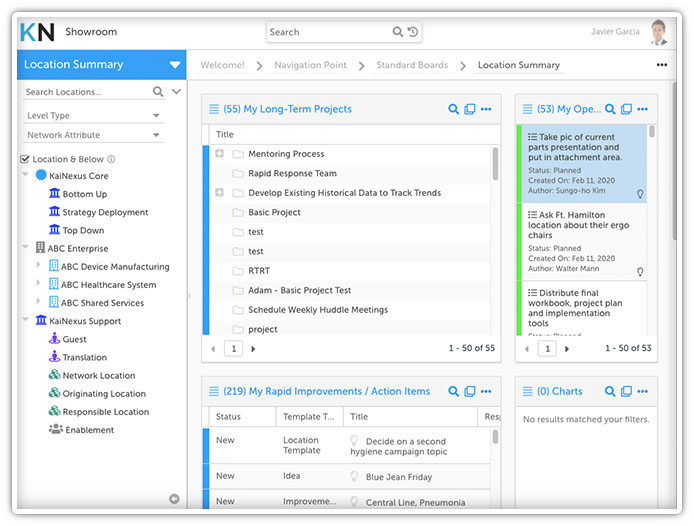 This module allows you to create "Wallboard" users that are essentially a way to support putting KaiNexus on a wall for all to view. This is ideal for situations where you want to leave one account signed into KaiNexus all day in a public location - such as displaying various Boards at a Kiosk - but don't want people making updates and changes to the system.

You can think of a Wallboard User as a "Read-Only" user.

With this module, "Wallboard" is available as a new account User Type - like the General and Capture User Types you're used to.
What are the features of a Wallboard User?
NOTE: A Wallboard account can only be logged in once at a time. If you log into Wallboard account on a second device, the first device will be logged out.
Their left navigation bar is removed, but they can still use the search bar to look for any Items they have permission to access.


They cannot access their User Profile window. However, you can log out of a Wallboard User by clicking and holding on the User Profile icon near the top right of the page.


They cannot make any changes to existing Items, including liking, acknowledging, bookmarking, or commenting.


Depending on how the Wallboard user is configured, there may or may not be a "Create" button at the top of the screen. If that button is not present, new Items can not be submitted from this account.


They cannot be part of any Item's Team, even as a Follower.


Their "User Profiles" have limited options - they can only be given a Username, First and Last Name, Physical Location, Network Location(s), and Role(s). They also can't be awarded - manually or automatically - any Badges.


They can't have an email address, so they won't get any email notifications. They also will not see any in-app notifications or have a Notifications window.


They can't edit or alter Cards in any way apart from refreshing them.


They cannot download any files or share any Items.


They cannot create or own Boards, and cannot edit or clone Cards.


They cannot save Custom Lists.


They can only be granted certain Roles - your Customer Experience Lead will work with you to get this set up the way you want.


They can only access certain Boards - your Customer Experience Lead will work with you on this as well.
Note: Wallboard Users are auto-activated.