User Counts Over Time Report
Track the number of each type of user over time.
The User Counts Over Time Report lets you track the number of users of each type in your organization over time.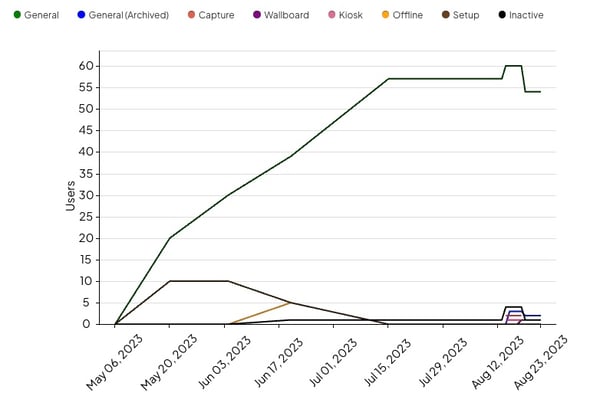 Example of a User Counts Over Time Report.
Who can access this Report?
Anyone with the "View Report Data" permission can see this Report.

This Report can be accessed under the System section of the Reports page.
Working with the Report
The data
This Report displays the number of General, Capture, Setup, and Inactive users. If your organization has the Wallboard and/or Kiosk modules enabled, the number of Wallboard and/or Kiosk users will be displayed as well.
Click a User Type in the chart's legend to toggle it on or off.
Hover over any data point to see the exact number of users it represents.
The filters
Any relevant filters in use on the main Reports screen will be automatically applied to this Report but can still be configured as needed.
There are two date-based drop-downs. First is the "Range" drop-down and second is the "Interval" drop-down.

Range: Expand the drop-down to choose the range of dates that should be included in the Report.
Interval: Expand the drop-down to choose the interval, or "buckets," by which the Report should be organized.
Click the Locations panel on the left side of the Report to expand it.

Export the Report
To export the Report as a PDF, click the ellipsis icon and the "Print" window will open.

Page Size: Expand the drop-down to choose your preferred page size.
Scale: Expand the drop-down to choose the scale percentage. This allows you to fit more content on a single page. For example, selecting 50% doubles the amount of content you can fit on one page. Make sure to select "Fit to page" in your browser's print settings.
Click either Portrait or Landscape to choose the PDF's orientation.
Click Print.

The Location of the Report will appear on the exported PDF beneath the Report title.