You may be finishing your work with an Item in KaiNexus and rather than simply completing the Item, the workflow now requires you to submit your work to be reviewed and approved by another person before it can be completed. During this process, you will be required to determine whether or not the work from your Item resulted in any measurable change(s) and if it may require any reviewing in the future.
How do I submit an Item's Resolution for Approval?
Open up the Item you are working with, then:
Bring up the Resolution window by either:

In the top left, clicking the status picker and select .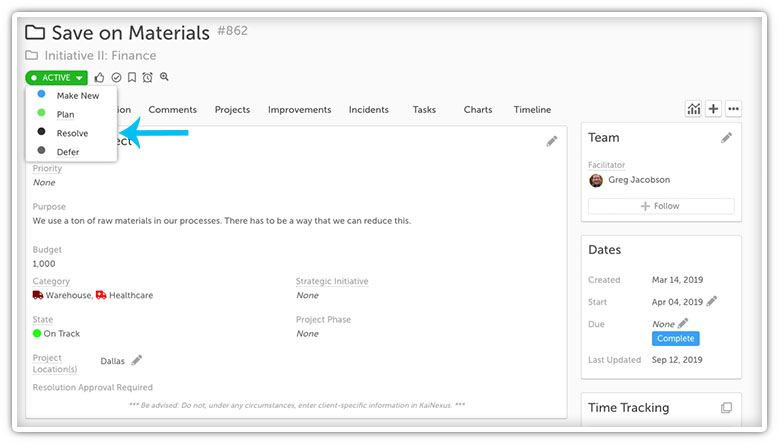 Near the top, clicking the tab called Resolution and then clicking the .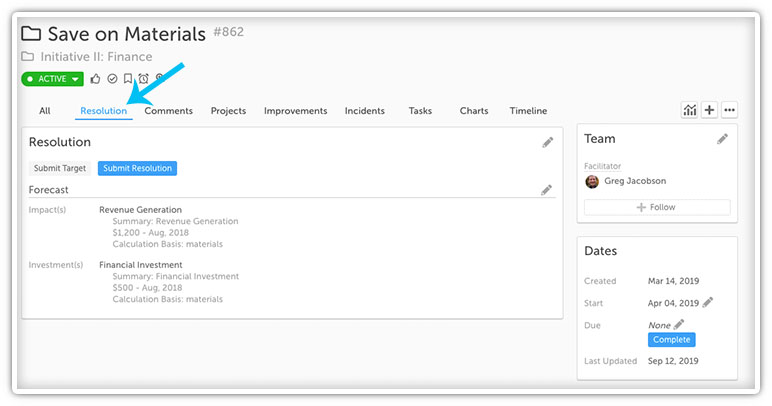 If your template has a Resolution panel showing on the Detail View, clicking the from directly within there.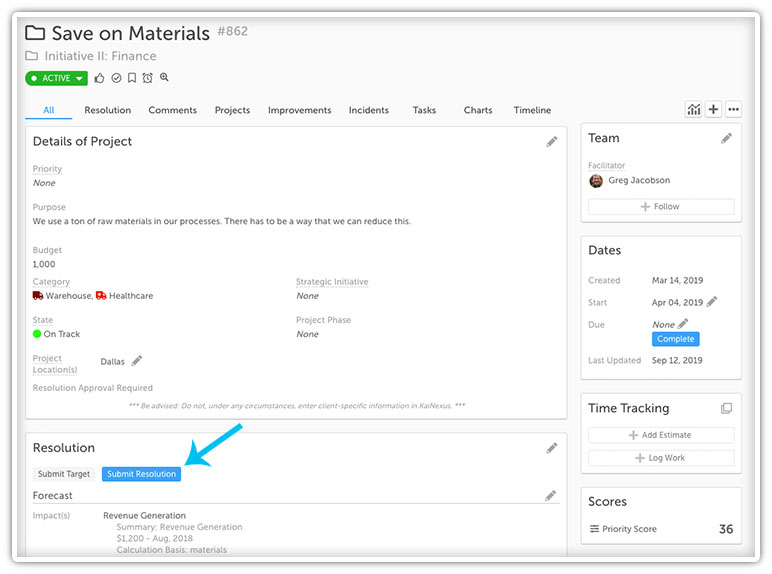 In the resulting window, fill out any remaining fields that may be required in order to submit the Resolution for approval.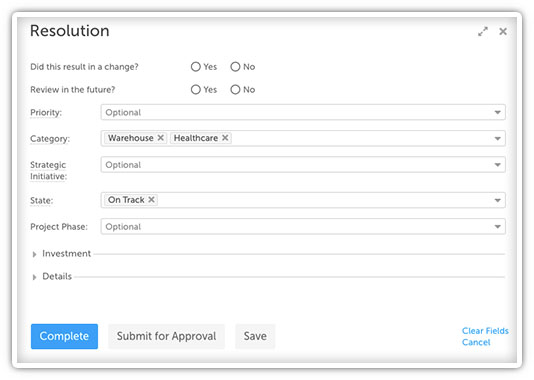 When asked "Did this result in a change?" select either "Yes" or "No".



If "No" is selected, a list of your organization's "No Change Reasons" will appear and you can select one or more to provide further explanation for why this Item did not result in any change.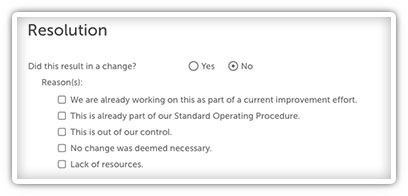 If "Yes" is selected, a list of your organization's "Impact Types" will appear and you can select one or more to record what kind of impact(s) or change(s) resulted from the work of this Item. Depending on the type of Impact and on your organization's settings, you will be prompted to enter certain information.

For more information on recording an impact during an Item's Resolution, please visit this support page .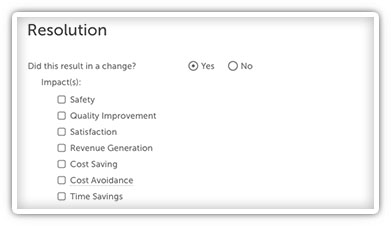 When asked "Review in the future?" select either "Yes" or "No".



If "Yes is selected, a "Review On" field will appear where you can select what date you would like to review this Item once again and a "Comment" box will appear where you can provide additional information for why or what in this Item needs reviewing.



Once you are finished filling out your Resolution, you are ready to submit this for approval by clicking .
This will then transition the Item into a

status and will notify the Assigner that they need to take action to review this Item's Resolution.
NOTE: By default, if a template has Resolution enabled and the Responsible Person and Assigner on the Item are the same person, then a "Submit for Approval" option will not appear within the Resolution window. This is because you would essentially be submitting this Item to yourself for review. If you would still like to have the ability to transition this into the "Resolution Submitted" status, please reach out to your Customer Experience Lead for more information.