Advanced Team
What is an Advanced Team?
The Advanced Team type is leader-driven (top-down) and is designed for multi-disciplinary collaboration, which may include senior leaders, middle management, front-line staff, as well as subject matter and process improvement experts. With an Advanced Team, no singular person is responsible for the improvement work on the Item.
What Team Roles are in the Advanced Team?


| | |
| --- | --- |
| Sponsor | A Sponsor is usually a senior leader who provides guidance, support, and direction and is the champion of the Item. |
| Facilitator* | The Facilitator is in charge of leading and executing the project. Typically, there are a limited number of Facilitators per Item. |
| Leader | The Leader is a position that will often be used in larger projects to lead small teams within the Item. |
| Participant | Participants are responsible for contributing to the overall Item objectives and team deliverables. |
| Participating Location(s) | Adding a Participating Location will allow every User in that Location to take part in the Item. Each User in the Participating Location will have the same Team Role permissions as a regular Participant, but will not receive additional notifications about the Project. |
| Follower* | Followers have no formal responsibility for the Item but they are kept in the loop and notified about any activity associated with it. It is helpful to follow an Item if you are interested in it and want to know how it's progressing. |

*Facilitators and Followers are mandatory Advanced Team Roles, but the Sponsor and Leader Team Roles can be disabled. Reach out to your Customer Experience Lead for details.
Advanced Team Role Permissions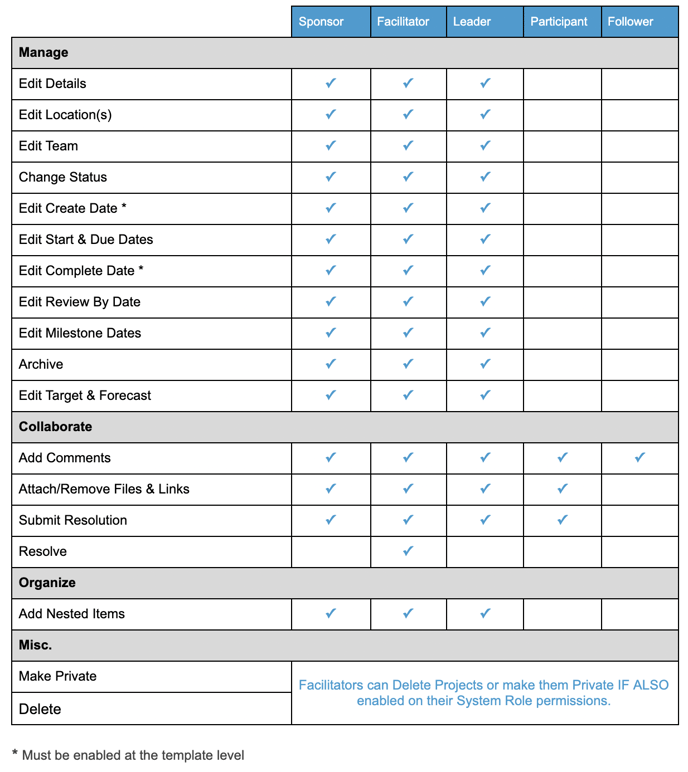 Advanced Team Role Notifications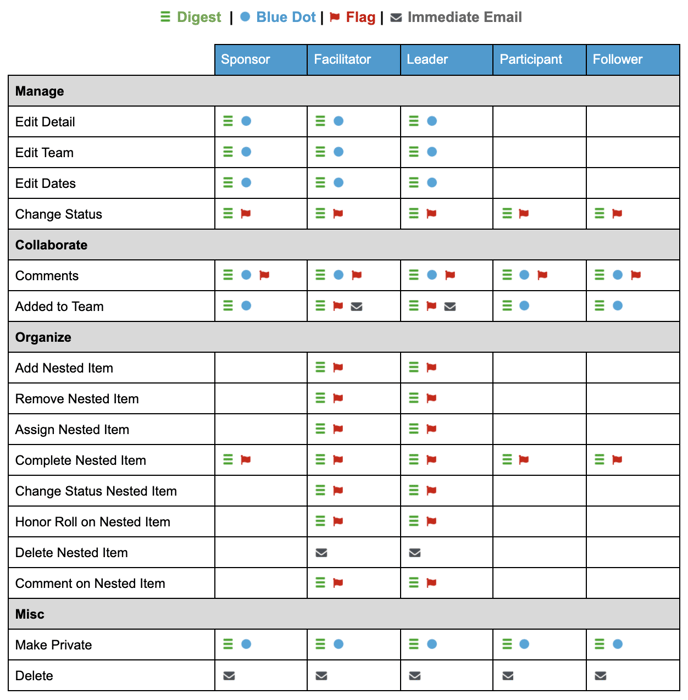 Recommended Reading