A Persona is an attribute that labels and identifies KaiNexus Users to provide a better understanding of who they are and how they use the system.
What is a Persona?
Personas are a way of classifying your organization's KaiNexus users beyond their User Type and their Roles. They are primarily used to label and identify Users based on who they are and how they use the system; however, one example of how they are used functionally is Board sharing by Persona.
Since each user can have only one Persona, administrators are able to use that information to identify which of their users need additional permissions and who needs a simpler experience in KaiNexus.

Pro Tip: A Persona can also be assigned to each Role in the system. This makes it easier for administrators to keep track of who should be assigned which Role(s).
What are the different types of Personas?
Frontline
The Frontline Persona is meant for users who participate in improvement work and projects but who are not responsible for higher-level improvement work like coaching or planning and organizing strategic efforts.

Frontline users will require the simplest view of KaiNexus, making it easy for them to participate without interrupting the necessary flow of their work.

This is the most common Persona.
Leader
The Leader Persona is meant for users who drive the improvement work of their Frontline workers in order to meet the goals set by their Executives. Their goal is to model and promote the improvement behaviors that create a culture of continuous improvement, and ensure that their employees practice them. Leaders depend on the improvement and technology expertise of the CI Coaches.

Leaders will likely require more access and permissions within KaiNexus than Frontline users.
Executive
The Executive Persona is meant for users who, while not directly responsible for continuous improvement as a part of their daily work, are highly invested in its success as a way to achieve organizational goals and strategic initiatives.

Their view of KaiNexus should be largely simplified and only focus on the visibility of the impact associated with the improvement work and organization-wide KPIs.
CI Coach
The Continuous Improvement (CI) Coach Persona is meant for users who are primarily responsible for establishing and sustaining their organization's culture of continuous improvement. At some organizations, this is a single individual, while others may have a whole department dedicated to this task.

Their view of KaiNexus will be the most advanced as they will have the most widespread system permissions across all of their KaiNexus users.
KaiNexus Champion
The KaiNexus Champion Persona is meant for users who work as primary or secondary contacts with the KaiNexus team. KaiNexus Champions also typically act as an administrator for KaiNexus within their organization and have regular meetings with their Customer Success Manager to ensure ongoing system management.
Share Boards by Persona
Personas are groups of People who have similar goals and habits in KaiNexus. An effective way to design Boards is to tailor them to suit the needs of all Users with a specific Persona.
For example, Frontline Users might like to see a Board with ideas they've submitted and upcoming tasks. Meanwhile, Executive Users would be interested in a Board showcasing Report data about the organization as a whole.
When you have a Board that suits the needs of a specific Persona, you can share the Board with all Users tagged with that Persona.

Pro Tip: Check out our Boards by Persona webinar series to see examples of how Boards can be designed for Users of a certain Persona.
To share a Board with a Persona, you must have permission to Edit the Board. In the Edit Board menu, scroll down to the Share settings and select a Persona in the Viewers drop-down.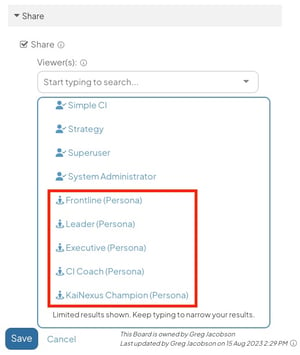 Change a user's Persona
Who can change a user's Persona?
To change a user's Persona (including your own), you must have either the "Global User Administrator" permission or the "Local User Administrator" permission for that user's Location(s).
Change a user's own Persona
Recommended Reading
Now that you understand Personas, we recommend checking out these articles: