If you have never logged into KaiNexus before, you'll need to activate your account and set your password.
How do I activate my account?
Without an Email Address
If you do NOT have an email associated with your KaiNexus account,
A KaiNexus admin within your organization will have to set a temporary password for you and provide you with your username and temporary password.
When you log in with your username and password for the first time, you will be taken to the activation screen.
With an Email Address
If you have an email address associated with your KaiNexus account, you will receive an email with account activation instructions. This email often comes from your account support team, but you can prompt your own account activation email as well.
If you have an account but did not receive an activation email from your account support team,
First, go to your organization's KaiNexus sign-in screen. The URL is unique to your organization.
Click Can't access your account? at the bottom of the sign-in screen.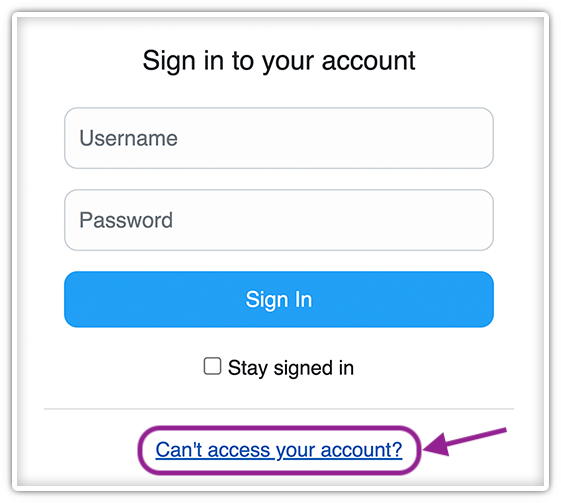 In the resulting window, click Activate Account via Email.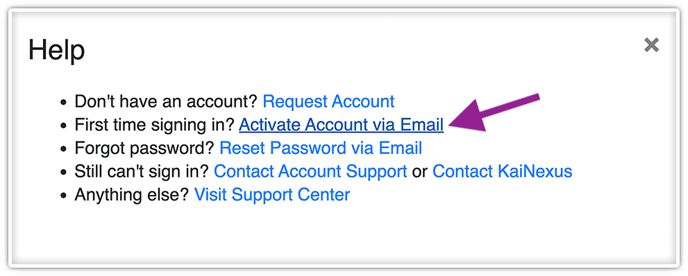 In the resulting Activate Account window, enter your username.

If you do not know your username, enter your email address instead and we will attempt to look up your account.

Check the CAPTCHA box to confirm that you're not a robot.

Until androids are recognized as sentient beings, KaiNexus is reserved for human use. Cyborgs (humans with cybernetic enhancements) are more than welcome to activate their accounts!

Click Activate Account. Account activation instructions will be sent to you.
Okay, I'm at the activation screen. Now what?
Click Begin activation.
Signify that you have read and agree to the End User License Agreement (EULA) by clicking the checkbox.
Click Next.
Create a unique password.

Your organization will have established some rules regarding the complexity of your password, which will be listed on this page. For example, your password may be required to be at least a certain length or contain some amount of uppercase and lowercase characters.
If your password does not meet one of these requirements, a red x will be displayed next to the violated rule and a red border will encircle the password. You will be unable to proceed until you enter a suitable password.
Click Complete Activation.
On the resulting screen, click Take me to KaiNexus and you will be logged into KaiNexus.