Contact account support
If you have activated your account and know your username and password but still can't access the system, you'll need to contact account support for help.

If you haven't logged into KaiNexus before, you may need to activate your account. If you've logged in before but have forgotten your password, you can reset it via email.
Who is notified when I contact account support?
Your information will be sent to your organization's support team or, if there is no such team, to the KaiNexus support team, who will pass it along to your organization.
Contact account support
To contact account support:
Navigate to your organization's KaiNexus sign-in screen. This URL is unique to your organization.
Click Can't access your account and the Help window will open.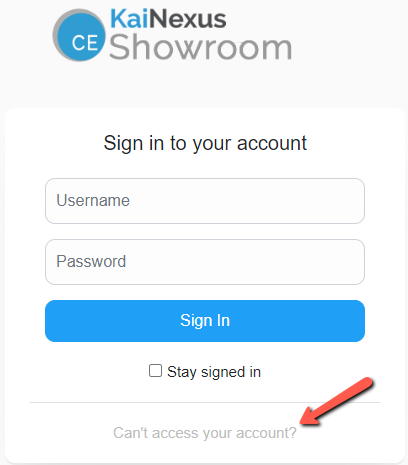 Click Contact Account Support and the Account Support window will open.


Enter your First Name and Last Name.
You can also enter your role/title with your organization, username (if known), email address, phone number, department or location, and a comment. While you're not required to enter this information, it can be very useful to the people looking up your account.
Check the CAPTCHA checkbox.
Click Submit and you will be returned to the sign-in screen. A confirmation message will appear at the top of the screen, confirming that your request has gone through.
Recommended Reading