NOTE: The Admin section is only accessible by Users with a System Role that grants them either the Global User Administrator or the Local User Administrator permission.
If a User's account has been changed to the Superuser, General User, or Capture User Type for a while but they've never logged in before, you might need to send them a new Account Activation Email.


PRO TIP: If the selected User does not have an associated email address, you will be unable to send an Activation Email and will need to set their password manually. They will be taken through the activation process when they first log in.
How do I send a User an Activation Email?
Navigate to the People section and find the User(s) you wish to activate, then:
Hover over the User so that it is highlighted blue.
Click the lock icon to its right.
In the resulting drop-down menu, select Send Activation Email.
In the resulting window, select Send Email.
FAQ's
What happens if a User tries to sign in and they receive this message?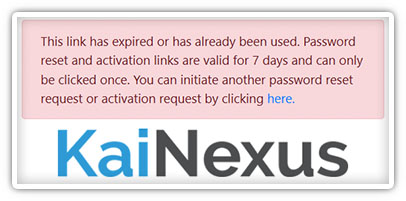 This usually means your device's email server security settings are set up to automatically test out links that are embedded within emails you receive, using up the links one-time validation before you have a chance to access it. Depending on your security settings you can:
Request a new activate account email, then copy and paste the link written out in full beneath the blue "Activate Account" into your browser navigation bar. Sometimes, this allows people to get to the Account Activation screen despite their server testing the link.
If that doesn't work, you may need to reach out to your organization's IT Team to see if there is an email security software active on your device that can be configured to exclude the testing out of links within emails you receive from KaiNexus.