The Admin area is only accessible by administrators; only System Administrators can perform the functions detailed on this support page.
You can customize your organization's colors rather than using our defaults:
If you've been using our default colors until now, check the box next to "Configure Organization Colors." If you've already customized the colors before, this box will already be checked and you can proceed.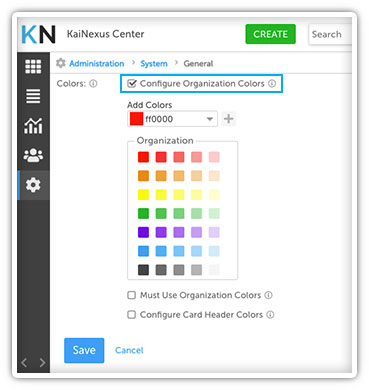 To add a new color:



Click inside the "Add Colors" field.


A color picker will appear.

If you know the hex code for the color you want to add, enter it in the "HEX" field. Otherwise, use the sliders and other fields to find the right color.


Once you've got the right color, click . The hex picker will close and the new color will be shown in the "Add Colors" field.


Click to the right of the "Add Colors" field. The new color will be added to the "Organization" box. Repeat these steps until you've added all your colors.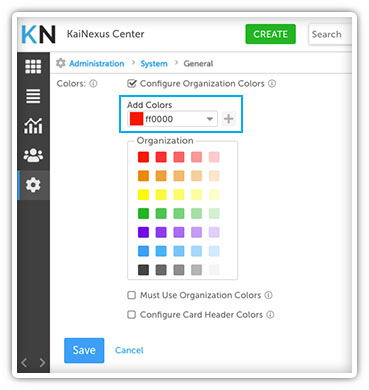 To remove a color:



Click that color in the "Organization" box so that it is highlighted in blue.


Click the button that appears next to the top right corner of the "Organization" box and that color will be removed from the list.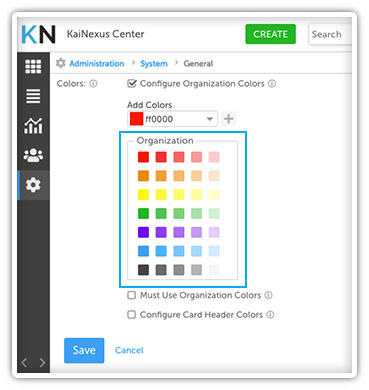 You have one more customization option for the Chart series and Card color pickers: you can hide the hex color picker, making the organization's colors the only option.

NOTE: If you restrict colors to just org colors, the colors on existing Charts and Cards will be left as they are.


Check the box next to "Must Use Organization Colors" to remove the hex picker and limit the color options to only the ones selected here.


Check the box next to "Configure Card Header Colors" to define the default colors of the Primary and Secondary Header's text and background upon creation.

NOTE: The colors of your cards will still be able to be changed (if allowed to). This will just define the default colors upon initially creating a new card in your instance.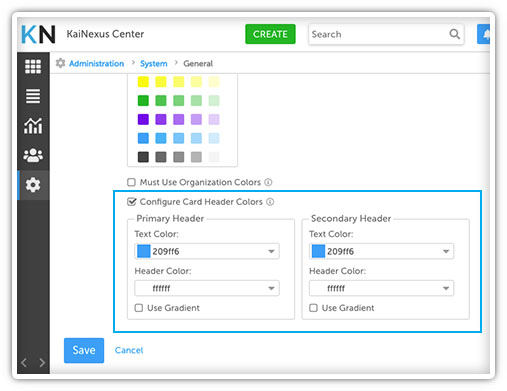 When you're finished making changes, click .
You will need to log out and back into the system to see these changes take effect.