If you've ever logged into KaiNexus, there's a good chance you've seen a popup notification letting you know about new updates to the system or upcoming classes your organization is hosting. These are login notices.

We use login notices to tell all of our users about important updates and additions to the system. But we're not the only ones who can use this tool - every System Administrator can create custom notifications to be displayed to every user who logs into the system.

What are some different ways to utilize login notices?

Dismissable Notices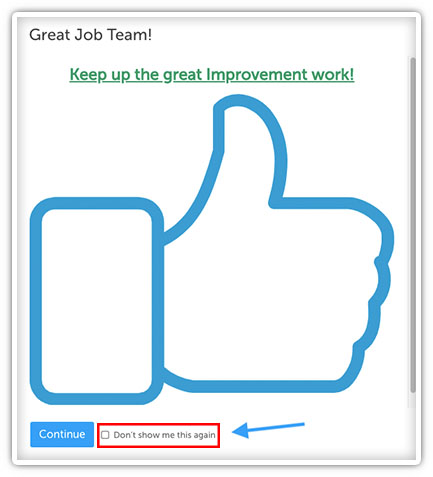 Dismissible notices are notices that, upon being displayed once, have the ability to be dismissed from future logins. This means that if a User checks the box next to the "Don't show me this again" message before pressing

, then the next time that User logs into the system, or refreshes their browser, then they will not be shown this notice again.
These are typically used to notify employees about events that might interest them, such as classes, conferences, or meetings involving Lean, Hoshin Kanri, or Continuous Improvement.


Other times, dismissible notices are created as a means of sharing new resources or interesting news about an organization's continuous improvement efforts. This is the kind of information that might get lost in the daily avalanche of emails, but which might catch people's attention if it pops up within KaiNexus.


Another common use of dismissible notices is to give out a link to critical internal or external or intranet documents. It's much easier to type your message once and have it sent out to everyone in your organization with KaiNexus access than it is to send out hundreds (or even thousands) of emails.

Non-dismissable Notices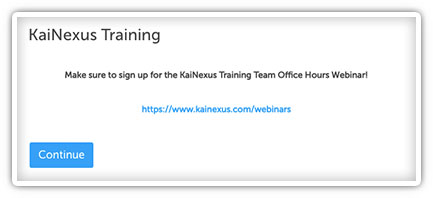 Non-dismissible notices are displayed every time a User logs into the system, or refreshes their browser. This means that even when they click the

button, Users will see this message again.
Notices like this are typically used to issue a quick reminder about standard practices and guidelines for working within KaiNexus. By reminding Users of your organization's rules for KaiNexus, you keep everyone on the same page and ensure that KaiNexus is being used in the best way possible.
For additional information on this feature, check out the corresponding support pages: