NOTE: Only User Administrators have the permissions to perform the functions detailed on this support page.
The Inactive User Type is best assigned to a User that no longer needs access to KaiNexus or is no longer with your organization. Inactivating a User allows you to maintain a record of the improvement work they participated in, but prevents them from accessing the system again.
Please note that there is no way to permanently delete a User within KaiNexus; we simply inactivate them so that we preserve their history of improvement work!
Who can inactivate a User?
Only Users with the following permissions can inactivate a User:
Global User Administrator
Local User Administrator (for Users in their specified location and below)
What happens when you inactivate a User?
Upon inactivating a User:
The User's User Type will change to "Inactive"
The User will no longer able to sign in to the system
The User cannot be added to the Team of any Item. However, if they were originally a part of the Team of an Item then they will remain on the Team until they are removed in some way
The User's private Boards will no longer be accessible.
The User's Boards that are public but restricted to specific Users/Locations will still allow the specified Users/Locations to access that Board. Board Admins will also be able to see them in the Manage Boards window.
The User's private Items can still be accessed by Users with the permission "View Private Everywhere"
The User's Draft Items will no longer be accessible, unless another User is already assigned to the Team of the drafted Item
The User will be excluded from the User criteria within the Advanced Filter
The User will not be included in any "By Person" Reports and "Engagement" Reports
The User will no longer receive any email notifications from KaiNexus
How do I inactivate a User?
NOTE: Inactivating a User does not permanently delete their account. They can be reactivated by changing their User Type.
To inactivate a User:
Navigate to the "People" section (or the Users section within the Admin area)
Hover over the User you wish to inactivate so that they are highlighted blue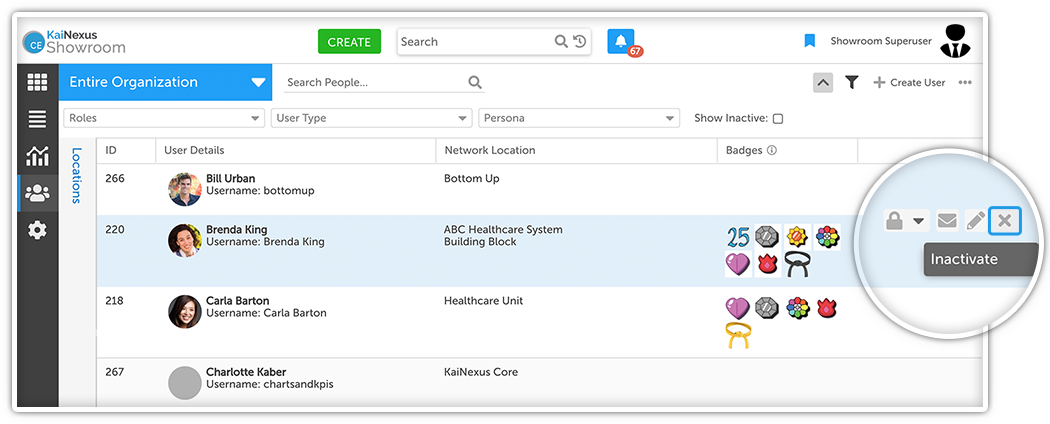 Click the on the right-hand side (or edit the User's profile and change their User Type to inactive).
In the resulting window, click Inactivate to complete the inactivation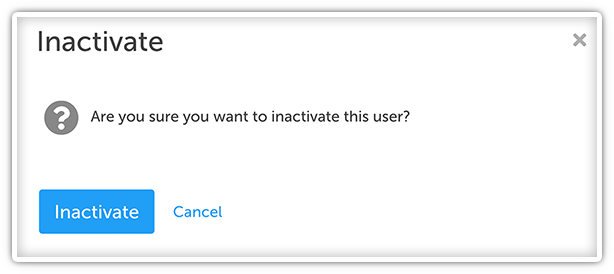 NOTE: To reactivate a User, please refer to this support page .