View where Roles are being referenced in the system
NOTE: Only Quality Administrators can perform the actions detailed on this support page.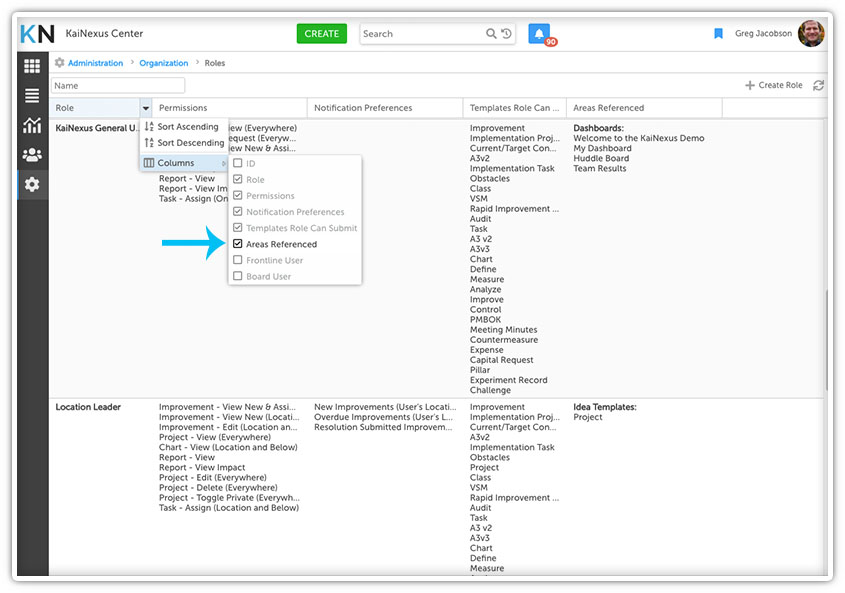 Your system Role's main function is to dictate what you can and cannot do within KaiNexus. Thus, Roles can be used in various places within the system and it can be difficult to remember where these Roles are being referenced. Now you have the ability to see if a specific Role is being defined somewhere else in the system.
Places a Role can be referenced:

Idea Templates


Dashboards


Milestones


Number of Users


Roles (if other Roles can grant this Role)


Board Subscriptions


Weighted Scores
How to see where a Role is being referenced
To see the areas a Role is being referenced:
Go to the Admin section .


Under Users, click Roles.


In the resulting page, you will see a list of all your system Roles.


At the top, hover over any of the column headers and to the right of their names click the .


In the resulting drop-down menu, hover over to open up a sub-menu.


Within that sub-menu, click to check the box and add that column to the page.