Subscribe to a Board
If you want a regular reminder to check in on a specific Board, consider subscribing to it. Any Board (or list) that you subscribe to will be included in your subscription emails.

To subscribe to a Board, you need only be able to view it.

What information is included in the subscription email?
This email serves as a reminder to check the Board, so it doesn't print out lists of information from each Board you're subscribed to.

Instead, it lists the name of each Board and provides a direct link to that Board so that you can access it quickly.
How often will I get a subscription email?
You'll get a subscription email at least once a week, but you can decide on which day(s) you should receive it. To do so:

Click the "Email Settings" tab.


Under "Which days do you want to receive your subscriptions?" check only the boxes for the days on which you want to receive a subscription email.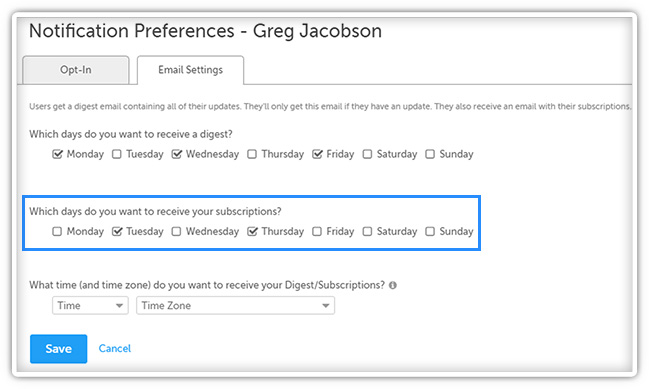 How do I subscribe to a Board?
First, open the Board to which you want to subscribe, then:
Click in the top right corner of the Board.


In the resulting drop-down menu, click .




If you later want to unsubscribe from this Board, open the same drop-down menu and click

.