New Features
We've added a new Cycle Type Report. Use this report to track the Improvement cycle time - how long Improvements are spending in each status - on a per Location basis.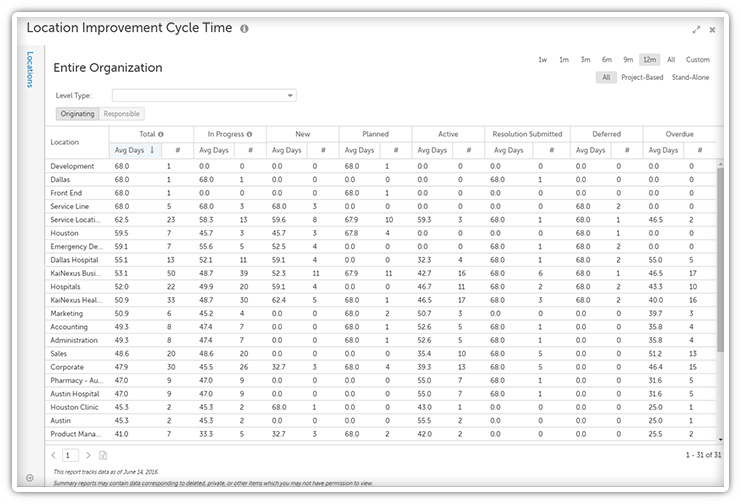 The notification window has been broken up into three sections - "All" which includes all of your alerts, "Yours" which includes alerts about Projects and Improvements with which you're involved, and "Opt-In" which includes alerts about which you've asked to be informed.

Complete Release Notes
Improvements

We've updated the design of the notifications bell and added a "badge" so you know how many alerts you have.

Project Administrators can now edit completed Projects.


If you do not have permission to assign an Improvement to its Author, the Author will not appear in the Responsible dropdown.


User attributes - Positions, Titles, Employee Types, and Certifications - can now be sorted alphabetically with the click of a button.


We've added "5 days" and "10 days" to the bottleneck filters.


An Improvement no longer needs to have a Responsible Person to be included in the Responsible Locations filter. This makes this filter work much better.


A text change was made to the confirmation screen seen when deleting an Attribute.


A text change was made to the Participant default tooltip.
Bugs
Charts in Reports will no longer include overdue Projects and Improvements in their "Active" counts.


We removed "Assign" from the options on a deferred Improvement, leaving "Activate" in place.


The "Last Updated" date on a draft Improvement is now updated when the Improvement is submitted.


A bug was fixed which prevented Project Administrators from editing a Project's dates or deleting the Project.


A bug was fixed which excluded fields shown on a Project's completion screen from an exported PDF.


A bug was fixed which prevented previously inactive users from receiving their KaiNexus emails.


A bug was fixed which sometimes caused filters on the People screen to be unselected.


When creating a new Role, a scroll bar will now appear when necessary.


A bug was fixed which sometimes prevented a profile picture from being uploaded.


File descriptions and titles added during the creation of an Improvement will no longer be lost.


A bug was fixed which caused the "Role(s)" filter to be dropped on certain Reports.