Organization > Attributes
Hiding the Text on an Attribute Value
NOTE: Reach out to your Customer Experience Lead to take advantage of this feature.

When working with Attributes, you may find it more valuable to associate your Values with only an icon rather than text or both text and an icon. KaiNexus offers the option to hide the Attribute Value's text when viewing the Attributes within the Work Panel of a Template or within the column of an Item List. This is a great way to enhance stoplight reporting and provide visual cues to your users.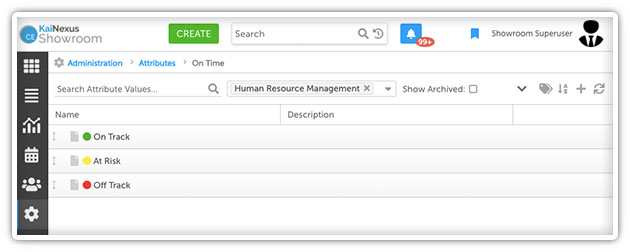 How does this feature work?
This option is available at the Attribute level for Value Type Attributes only and can be enabled by your KaiNexus Customer Experience Lead. Since this is for Value Type Attributes only, this means Person, Location, and Weighted Score Type Attributes are currently not supported. Being available at the Attribute level also means that this feature will take effect on every Template that the specific Attribute is listed on. For example, if you have an Attribute that is on two separate Templates with this feature enabled, then you will have the text hidden when viewing this Attribute on both of these Templates.
Where is the text of the Attribute Value hidden within KaiNexus?
When enabled on an Attribute, the names of all Attribute Values will be hidden on both the Work Panel of an Item AND when viewing the Attribute in a column on an Item List.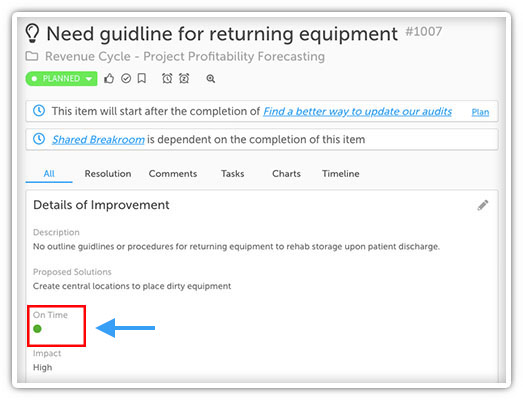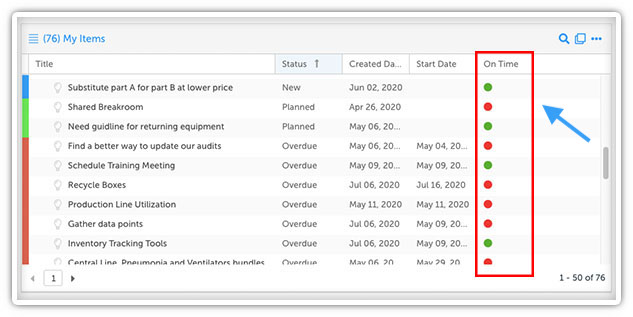 PRO TIP: You can view this as a column in an Item List that's in List View, Tree View, or Gantt View and as a Default Attribute in an Item List that's in Detail View or Kanban View. The text will still be visible within the edit window when you are selecting a Value.