Change the status order
Decide the order in which Item Lists sorted by status should be displayed.
By default, Item Lists sorted by status are displayed in the following order: Draft, New, Planned, Overdue, Active, Resolution Submitted, Completed, and, lastly, Deferred.

This order can be reconfigured to suit your organization's needs.

This will affect all Item Lists, Item List Cards, and Nested Item Lists sorted by Status in your organization.
Who can change the order in which statuses are sorted?
Anyone with the "System Administrator" can access the General administration page and update the status order.
Change the status order
To change the status order, navigate to the General administration page, then:
Locate the Status Order panel. Each status is listed in this panel in the order they will appear in Item Lists.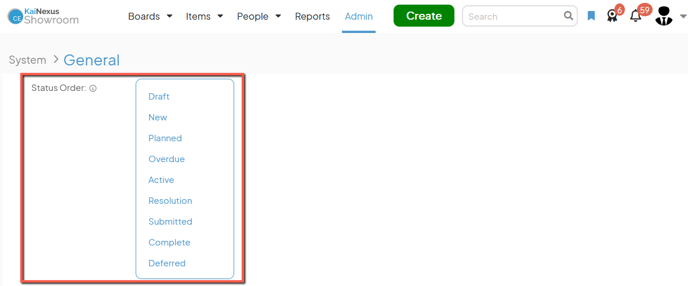 Click and hold the name of the status you want to move and drag and drop it into its new position in the list, taking care to position the moving status so that the green "drop line" appears in the correct position. Repeat this step for each status you want to reorder.
When you're finished, click Save. You will need to sign out and then sign back into the system to see this change take effect.