Create a Control Chart
You can create Control Charts to monitor performance. You can even have the Chart generate an alert should it become out of control. That way, you'll never miss out on important information.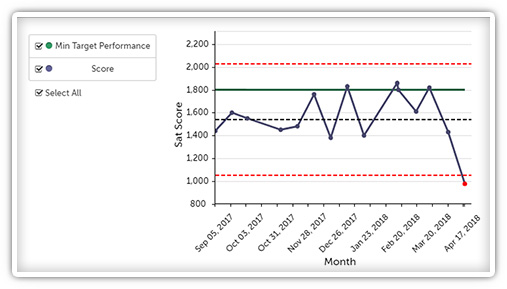 How do I build a Control Chart?
First, create the chart as you normally would. Then, navigate to the Chart and:

Click in the top right corner of the page.


In the resulting drop-down menu, click .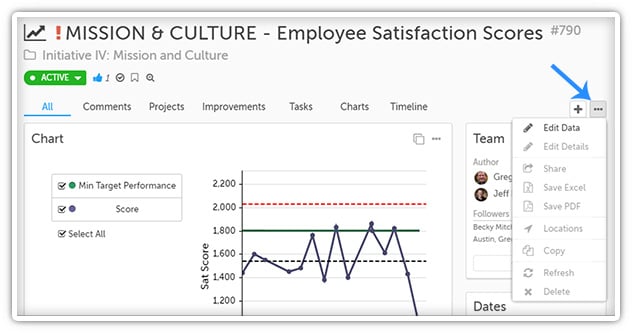 In the resulting window, add data to your Chart as necessary, then click

.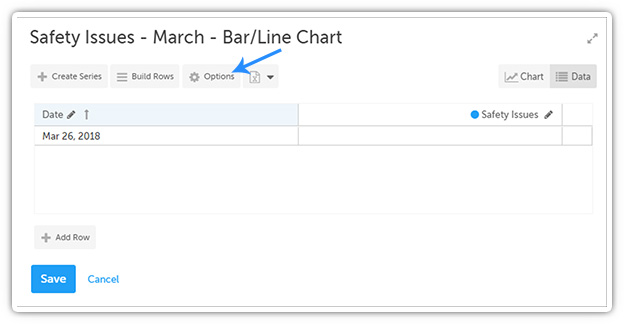 The control limits settings are at the bottom of the resulting window. You can:
Enter the lower, average, and/or upper limits in the corresponding fields and pick a color for each.


Check the box next to "Generate Flag" to have an alert generated to all members of the chart's team if the data that is entered is out of control, i.e. when a data point surpasses the upper or lower limit.


Check the box next to "Red Markers" to make data point markers red if the point is out of control. Note that markers must also be enabled on the data series configuration.


Click .
What happens when the data is outside of control limits?
If "Generate Flag" is enabled, every member of the chart's team will get an alert that the data is outside control limits.


A red exclamation point is displayed along the chart's name on any list of charts.