Using the Share function in the Edit Board and New Board windows, you can share a Board with Users, Locations, or Roles and grant them various levels of access to it.
When you share a Board with someone in KaiNexus, you give them access to view the Board and the information on it by adding it to their Boards dropdown. This is a great way to manage the experience of your Users to ensure they see everything they need and nothing that they don't, giving them a simple and streamlined KaiNexus experience.

NOTE: In order to share Boards, you must have the Board Administrator permission. If the Board you're trying to share is private or restricted, then the person you share it with may not be able to view it.
How to Share a Board
You can share both new and existing boards by editing the Share settings at the bottom of the New Board or the Edit Board window.
Scroll to the bottom of the window and select the Share checkbox.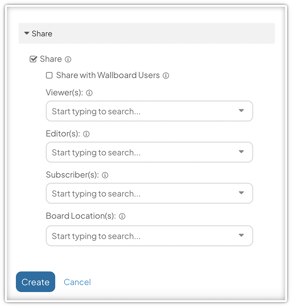 The following fields will then appear:
Share with Wallboard Users: Checking this box makes the Board accessible on all Wallboards and for all users of this type. If you don't select this, the Board cannot be displayed on a Wallboard.
Viewers can view the Shared Board but cannot make changes to its configuration. Viewers can be defined as Network Locations, System Roles, or individual Users. This is a required field.
Editors can view the Shared Board and make changes to its configuration. Only individual Users can be added as Editors. Adding people here enables them to edit the Board even if they don't have the Board Administrator permission.
Subscribers will receive a link to the Shared Board in their Subscription email. Subscribers can be defined as individual Users, Network Locations, or System Roles.
Board Location determines which Users with proper Board Administrator permissions have the ability to Edit the Shared Board. This is a required field.

NOTE: You must select at least one Viewer or Editor AND a Board Location when saving. Selecting Save with only Editors defined will automatically add those Editors as Viewers as well.

Selecting Save shares the Board with your selected Users and Locations by putting it in their Board dropdown menu. This grants them access to the Board per the permissions you selected. Sharing a Board with someone does not trigger any notifications.
How to See All Boards You Have Edit Permission On
You can access all Boards you're allowed to edit by clicking on Manage Board in the Boards main navigation dropdown.
Legacy Functionality
Some Boards that had been shared using the previous Make Public function with no Viewers defined will continue to behave as they do in their current state. If you edit an existing "Public" Board, you must define one or more Viewers or Editors before you can save.