Board Timeline
A Board Timeline shows a detailed history of changes made to that specific Board. With this feature, you can see exactly what change was made, who it was made by, and when it happened.
Who can visit a Board Timeline?
Any User that has permission to view the Board.
How to use the Board Timeline?
To see a Board's Timeline,
Navigate to the ellipses icon and select Timeline from the dropdown menu.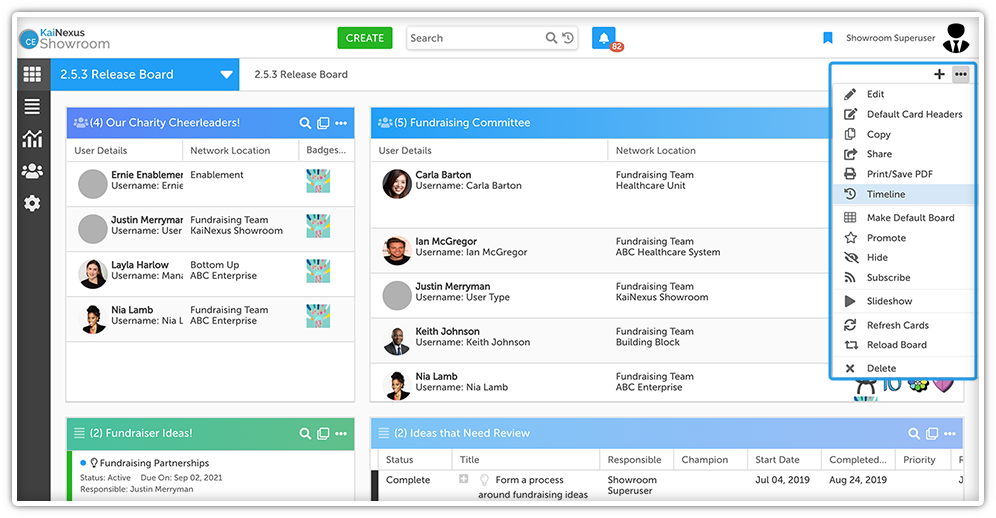 In the resulting window,
Scroll through the Timeline to see an audit trail of the changes made to that Board, including:

Date and Time stamps for when each change took place
The User who made the change
The action the User took to make a change

Hover over underlined text to see specific details of the change.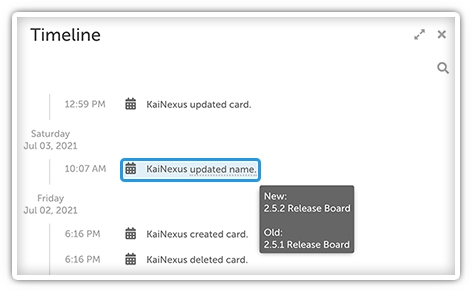 In the image above, the Timeline shows that a User named KaiNexus updated the Board name from Welcome! to New Hire Onboarding on Wednesday, June 16, 2021 at 2:50 p.m.
Select the magnifying glass to search for specific actions within the Board Timeline.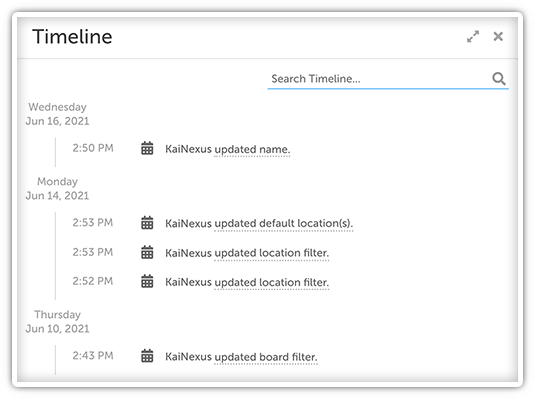 What information is captured within the Board Timeline?
There will be a date and time stamp for each User and action they took related to the Board. The following actions can be found within the Board Timeline:
Board Creation
Editing the Board's:

Title
Description
Sections
Section Layout
Rank
Show Location Filter
Show Board Filter
Nest Under
Make Public
Board User
Restrict Viewing to
Editor(s)
Subscriber(s)
Board Location(s)
Owner
Manage Boards Bulk Change

Change parent
Change Restrict Viewing to
Change Editor(s)
Change Subscriber(s)
Change Location(s)
Change Owner
Delete